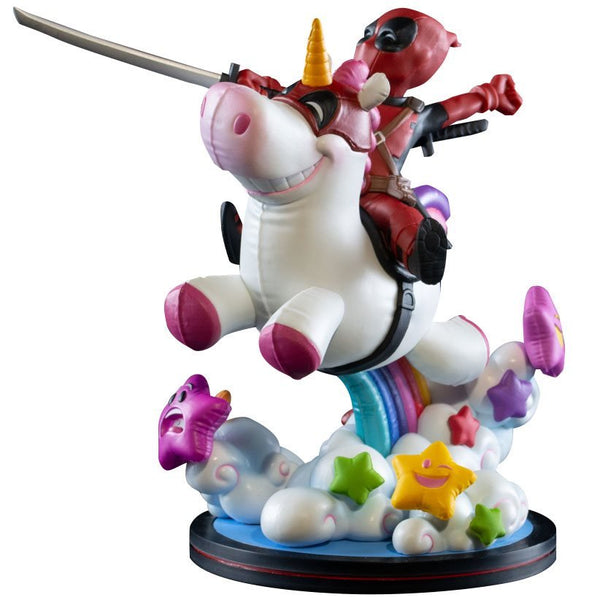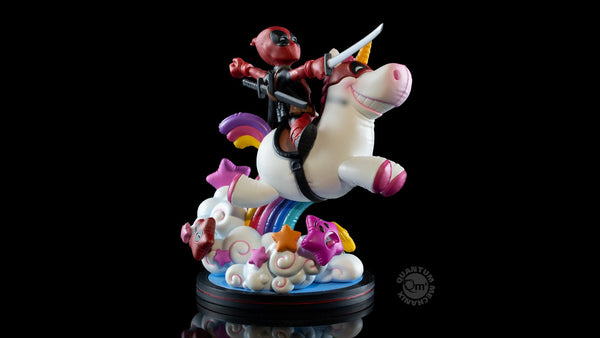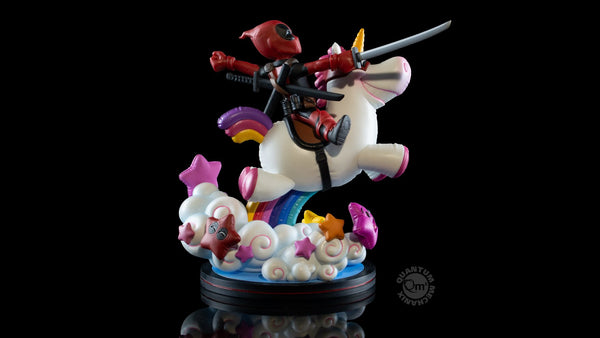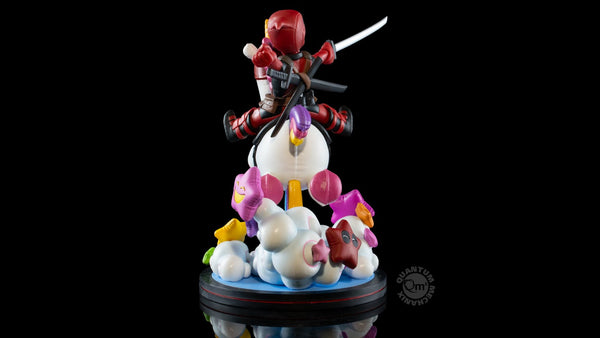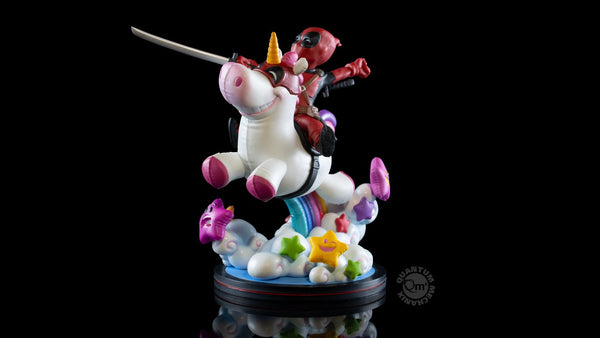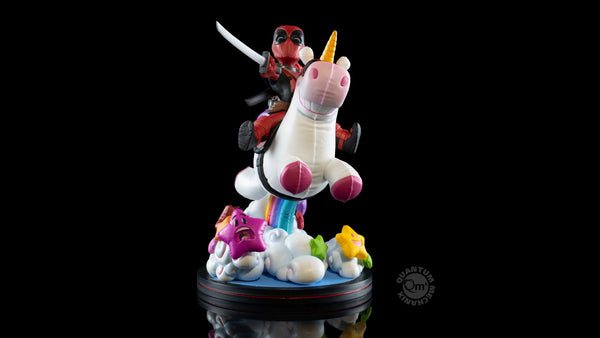 Marvel
Quantum Mechanix Deadpool x Unicorn Q-Fig Max Elite Figure Exclusive
Pre-Order Deposit: $5.00. Retail Price: $49.98.
 The Deadpool x Unicorn Q-Fig Ships US Domestic For Free!
Every 10 orders, we donate 1 toy to Children's Healthcare of Atlanta!

This is a Pre-Order Listing. We require a $5.00 Non-Refundable Deposit (NRD) at this time. We will contact you by email to collect the item balance of $44.98 plus taxes via Paypal or Credit Card when we receive this item in stock. We expect to receive Deadpool x Unicorn in 2021 per Quantum Mechanix, but we cannot guarantee a specific date of shipment to you. Sales tax (where applicable) will be included on the final invoice. We are a direct QMx retailer.
Your NRD guarantees a reservation for this item. You must provide an email in your order for your final invoice. For security purposes, know that we will not contact you via phone for payment of any kind, for any reason.
Why You'll Have a Blast!: 
Deadpool pops in the most unlikely places to cause mischief and now he comes to Have A Blast Toys riding the only steed as fun loving as him! Deadpool and his trusty unicorn blast out of the land of rainbows and stars to fight evil-doers. You can have a blast with this super-sized QMx chibi production of this epic hero! This Q-Fig MAX Elite figure of the legendary assassin and his unlikely companion will bring joy to your collectible shelf! Bring them home to join your Marvel heroes collection today!
Check out all the great toys & games in the Have A Blast store.
Some packages may/will have flaws/creases/imperfections. We do not guarantee mint packaging. Let us know you are a collector and we will pick out the best packaging we have for you.
Description:
If Deadpool loves anything more than chimichangas and cracking wise, it's unicorns. He really loves unicorns. Probably a little too much, truth be told. And now he can ride his very own majestic steed in our Deadpool x Unicorn Q-Fig Max Elite, available exclusively at Walmart!

Is this the most ridiculously clever, charming and expressive Deadpool collectible ever created? Yes. A thousand times, yes. The Deadpool x Unicorn Q-Fig Max Elite (so named because of its maximum eliteness) is so bright and colorful it looks like a pinata exploded in a cloud bank. But we don't advise tasting it, because that would be weird.

From the vibrant rainbows to the whimsical inflatable stars, this piece positively screams Deadpool. Just take a look at the stars, in case you don't believe us. They're actually screaming. With Mr. Pool riding his buoyant and uni-horned steed (at least we didn't say he was "horny"), this Q-Fig Max Elite is huge. We mean really big. Like hugely big or maybe bigly huge. Something like that.
Return Policy:
Buy gifts with confidence (that rhymes)!
You've got 45 days from the day you receive your item in the mail to return any unopened, original packaging item to us. 
Free Shipping:
Free Standard (3-8 day) shipping for orders over $49.98 shipped to an address within the continental United States. We process and ship most in-stock orders within 24 hours of your purchase! Expedited/overnight shipping options available at checkout.