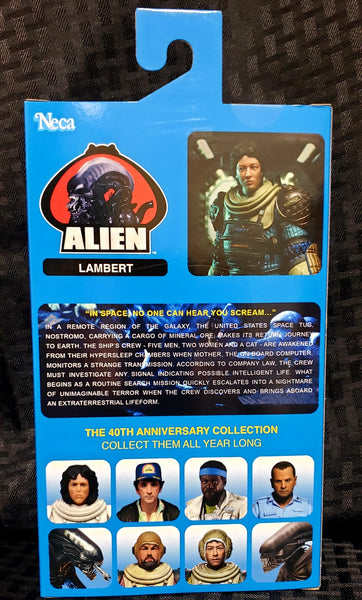 Popular Characters
NECA Alien 40th Anniversary Lambert 7-Inch Scale Action Figure
US Domestic Orders $49.98+ Ship Free 
Every 10 orders, we donate 1 toy to Children's Healthcare of Atlanta!
Why You'll Have a Blast:
Bring back the original terror in space with NECA's 40th Anniversary Lambert action figure! Have a blast with the so good it's out of this world 7" action figure of this intrepid crew member on the Nostromo. This painstakingly created NECA Toy will bring nostalgia for the golden age of space horror. In or out of the collectible packaging, this Lamber figure will courageously fight to defeat the Alien menace. Check out all the great toys + games in the Have A Blast toy store.
Description:
Released to theaters in 1979, Alien became one of the most successful films of the year and has since grown to be a timeless sci-fi classic. To celebrate the film's 40th Anniversary, NECA is releasing an ongoing series comprised of new releases all year long, with at least nine different Limited Edition action figures to collect. Wave 4 includes previously released fan favorites Ripley (Compression Suit), Lambert (Compression Suit), and Giger's Alien, with various upgrades and improvements. Both Ripley & Lambert will feature photoreal facial deco of Sigourney Weaver and Veronica Cartwright! Giger's Alien features new paint deco based on HR Giger's original concept artwork. Each figure will come packaged in a 40th Anniversary Kenner inspired window box to commemorate the occasion.
Return Policy:
Buy gifts with confidence (that rhymes)!
You've got 45 days from the day you receive your item in the mail to return any unopened, original packaging item to us. 
Free Shipping:
Free standard (3-8 day) shipping for orders over $49.98 shipped to an address within the continental United States. We process and ship most in stock orders within 24 hours of your purchase! Expedited/overnight shipping options available at checkout.