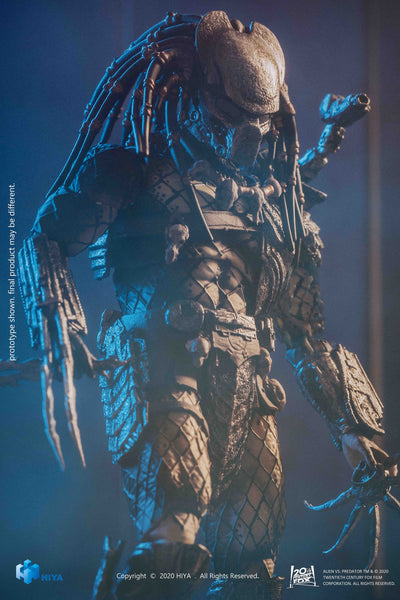 Popular Characters
Hiya Toys Avp Alien vs Predator Warrior Predator 1/18 Scale Figure
Domestic Orders $49.98+ Ship For Free!



Every 10 orders, we donate 1 toy to Children's Healthcare of Atlanta!
Why You'll Have a Blast!: 
You're sure to have a blast with Hiya Toys' "Exquisite Mini" production of this Alien hunter, the Warrior Predator! Ultra-detailed, well-armed and pose-able this 3.75" scale Predator has come to the ancient test to be the standout premium figure in your collection.  Hiya Toys has brought to life this mighty Predator from the Alien vs Predator film to a mini collectible display box. 
Description:
In 2004, industrialist Charles Bishop Weyland sends a group of explorers to investigate a mysterious Antarctic pyramid. They arrive and immediately discover they've entered a Yautja hunting ground. Now caught between a trio of Hunters and a host of xenomorphs, the team must find a way to escape...or risk becoming prey or trophy! In the denouement of Alien Vs. Predator, lone survivor Lex is greeted by a group of newly arrived Yautja, there to collect the body of the fallen Scar. These Warrior Predators bear a passing resemblance to the original Jungle Predator, with a combistick, plasmacaster, and extended wristblades. However, this Warrior Predator adds a calf-mounted blade, and wears revised armor. Along with its shruiken, additional hands, and a peggable stand, this Yautja is loaded for bear!
Return Policy:
Buy gifts with confidence (that rhymes)!
You've got 45 days from the day you receive your item in the mail to return any unopened, original packaging item to us. 
Free Shipping:
Free standard (3-8 day) shipping for orders over $49.98 shipped to an address within the continental United States. We process and ship in-stock orders within 24 hours of your purchase! Expedited/overnight shipping options available at checkout.