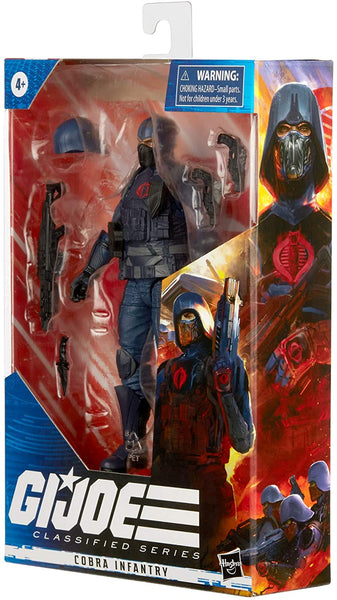 Popular Characters
Gi Joe Classified Series Cobra Infantry 6-Inch Action Figure
Domestic US Orders $49.98+ Ship Free
Every 10 orders, we donate 1 toy to Children's Healthcare of Atlanta!
Why You'll Have a Blast:
Cobra Infantry fight as the pawns of Cobra's evil plans for the world! Have A Blast with this specially trained, combat ready action figure. Bring the Cobra Infantry home to destroy GI Joe and champion Cobra's schemes for the world. Cobra Infantry will come straight out of the Hasbro case to be shipped to you. Get all your GI Joe Classified figures in the Have A Blast store! 
Description:
G.I. Joe is a highly skilled, on-demand, special operations force of men and women from around the globe. These extraordinarily talented heroes are selected for their elite abilities and tasked with defending the world from Cobra, a ruthless criminal organization bent on total domination. With unwavering courage and steely determination, the brave members of G.I. Joe are prepared to seek out Cobra in any environment on the planet. From hostile jungles to ice-clad arctic peaks…wherever there's trouble, G.I. Joe is there.
This Cobra Infantry figure comes ready for action, with multiple points of articulation for high poseability and 5 character-inspired accessories. And with custom artwork by Kekai Kotaki, the G.I. Joe Classified Series Cobra Infantry package will make a mark on shelves.
Includes: G.I. Joe Classified Series Cobra Infantry action figure and 5 accessories.
Return Policy:

Buy gifts with confidence (that rhymes)!
You've got 45 days from the day you receive your item in the mail to return any unopened, original packaging item to us. 
Free Shipping:
Free standard (3-8 day) shipping for orders over $49.98 shipped to an address within the continental United States. We process and ship most in stock orders within 24 hours of your purchase! Expedited/overnight shipping options available at checkout.