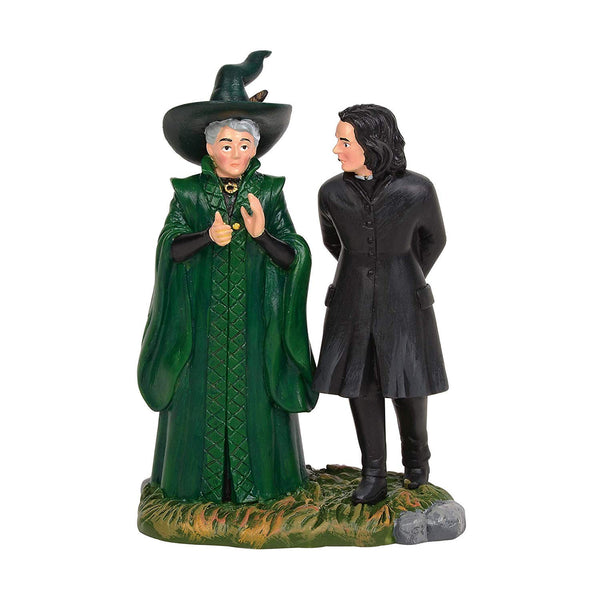 Popular Characters
Department 56 Harry Potter Village Snape and McGonagall Figurine Set
Free Shipping on eligible orders over $49.98.
Every 10 orders, we donate 1 toy to Children's Healthcare of Atlanta!
Why You'll Have a Blast!
Begin your collection of Harry Potter magical locations at home! Have a blast with Enesco's second wave for the Harry Potter Village line. The Snape & McGonagall figuirine set adds iconic professors to your village. These detailed figurines are crafted using the exact specifications from the movie studio to create an unbelievably lifelike experience for the Harry Potter fan. From the majesty of Hogwarts Castle & the Astronomy Tower, to the Hogwarts Express, the Burrow, and more figurine sets, Department 56 has truly brought the Wizarding World to life.
Description:
The two most respected (and feared) professors at Hogwarts are Severus Snape, the sardonic Potions Master, and Minerva McGonagall, the equally strict but more Transfiguration teacher. Boasting magical knowledge and abilities second only to Dumbledore.
Village Figures
3.5 in H

Return Policy:
Buy gifts with confidence (that rhymes)!
You've got 45 days from the day you receive your item in the mail to return any unopened, original packaging item to us. 
Free Shipping:
Free standard (3-8 day) shipping for orders over $49.98 shipped to an address within the continental United States. We process and ship most in stock orders within 24 hours of your purchase! Expedited/overnight shipping options available at checkout.