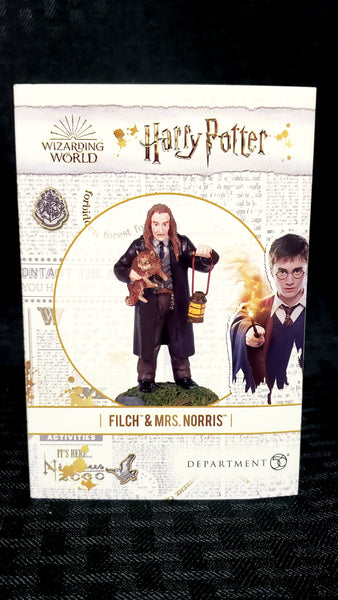 Popular Characters
Department 56 Harry Potter Village Filtch and Mrs Norris Figurine
Regular price
$ 25.00
Sale price
$ 19.98
---
US Domestic Orders $49.98+ Ship Free!
Every 10 orders, we donate 1 toy to Children's Healthcare of Atlanta!
Why You'll Have a Blast!
Begin your collection of Harry Potter magical locations at home! Have a blast with Enesco's continuing Harry Potter Village line. Filtch faithfully patrols the halls of Hogwarts for miscreants in the 1st collection of 2020. These highly detailed Village pieces are crafted using the exact specifications from the movie studio to create an unbelievably lifelike experience for the Harry Potter fan. From the majesty of The Owlery at Hogwarts Castle, to Borgin and Burke's, to The Three Broomsticks, and a collection of accompanying characters, Department 56 has truly brought the Wizarding World to life.
Description:
Argus Filch should probably not work with children, and yet he is the caretaker of Hogwarts school. The only thing he truly love is his cat, Mrs. Norris, who is usually on the prowl for misbehaving children. Place him in your village carefully. New in the foam protected packaging, Filtch stands 3.19" high.

Return Policy:
Buy gifts with confidence (that rhymes)!
You've got 45 days from the day you receive your item in the mail to return any unopened, original packaging item to us. 
Free Shipping:
Free standard (3-8 day) shipping for orders over $49.98 shipped to an address within the continental United States. We process and ship most in stock orders within 24 hours of your purchase! Expedited/overnight shipping options available at checkout.