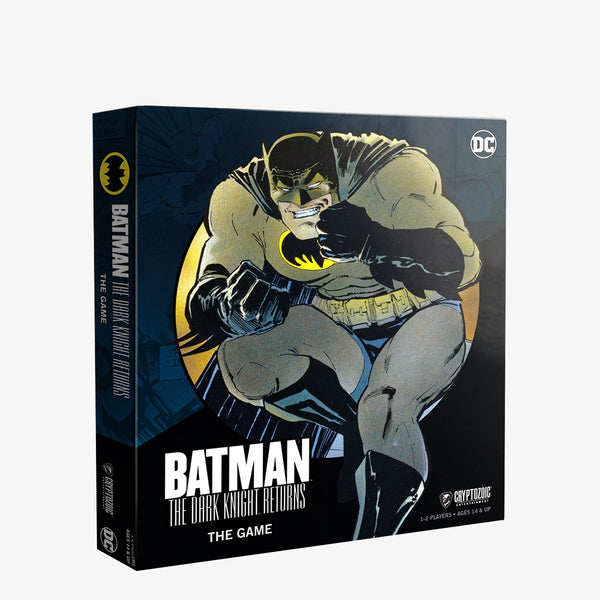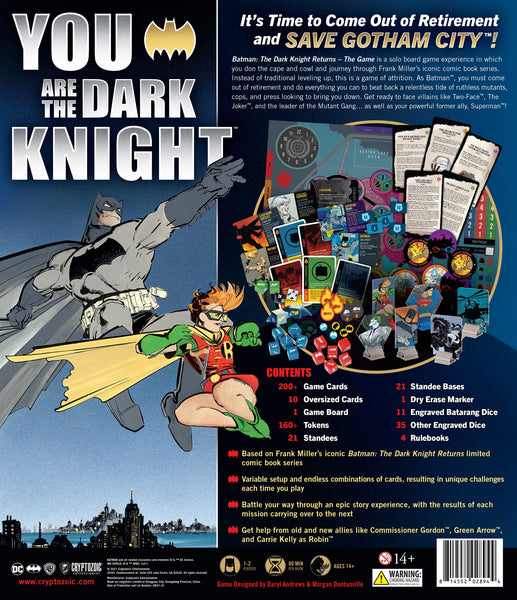 Popular Characters
Cryptozoic Batman: The Dark Knight Returns - The Game Base Version
Batman - The Game Ships US Domestic Free 
Every 10 orders, we donate 1 toy to Atlanta area foster kids!
Why You'll Have a Blast!:
Embark on an authentic Dark Knight adventure with a new story. The Dark Knight Returns game books will create a new adventure for Batman fans, accompanied by an assisting game board. Your characters have been inspired by the original Frank Miller story as Batman comes out of retirement to fight the fearsome Mutants. This package includes a tokens, cards and dice to make sure the adventure continues at home! Check out all the great toys + games on at Have A Blast!
Description:
Batman: The Dark Knight Returns — The Game is a solo board game experience in which you don the cape and cowl and journey through Frank Miller's iconic comic book series. Instead of traditional leveling up, this is a game of attrition. As Batman, you must come out of retirement and do everything you can to beat back a relentless tide of ruthless mutants, cops, and press looking to bring you down. Get ready to face villains like Two-Face, The Joker, and the leader of the Mutant Gang… as well as your powerful former ally, Superman!

The game is played over the course of four epic "Books," with the results of each carrying over to the next. Each Book features unique rules, allies, abilities, and epic boss battles. You can also play each Book standalone, with setup instructions for easy, normal, and hard modes. There's even a VS Mode that lets one player take control of Batman's enemies.

The game is offered in a regular edition and a Deluxe Edition featuring 17 miniature figures designed in the distinct Frank Miller art style of the comic!
GAME CONTENTS
Base Game
200+ Game Cards
10 Oversized Cards
1 Game Board
160+ Tokens
21 Standees
21 Standee Bases
1 Dry Erase Marker
11 Engraved Batarang Dice
35 Other Engraved Dice
4 Rulebooks
Return Policy:
Buy gifts with confidence (that rhymes)!
You've got 45 days from the day you receive your item in the mail to return any unopened, original packaging item to us. 
Free Shipping:
Free Standard (3-8 day) shipping for orders over $49.98 shipped to an address within the continental United States. We process and ship most in-stock orders within 24 hours of your purchase! Expedited/overnight shipping options available at checkout.